Introducing my first Christmas romance . . . 
AVAILABLE ON AMAZON IN EBOOK, PRINT, and AUDIOBOOK
The print book is also distributed by Ingram Book Group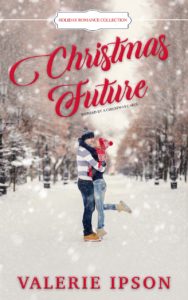 She's taken. He's taken. But maybe absence doesn't make the heart grow fonder.
While Scarlett Ambrose works her PR magic landing the state of Alaska on the nice Christmas spirit list, her wedding plans and a longing for Arizona's heat have to wait. But when the wait's too long will a warm-hearted doctor be just the prescription for lifting her cold, Scrooge-like spirit?
Gil Pennington, dubbed online as "The Compassionate Doctor," arrives in Anchorage to set his late father's affairs in order. He yearns for a place to call home, but an overdue breakup with his fiancé from California puts the plan on hold. What he doesn't expect is a displaced Valley of the Sun-girl taking up residence in his heart.
Can a frosty PR rep and a benevolent doctor find love in snowy Alaska? With a bit of holiday whimsy and a big dose of Christmas spirit, maybe they will find their Christmas Future.
Editorial Reviews
Ipson (Ideal High) switches from YA to adult (but very teen-friendly) romance with this modern retelling of Charles Dickens's A Christmas Carol, a charming sweet contemporary about a somewhat Scrooge-like PR pro and a bighearted doctor. After Scarlett Ambrose's business partner cleans out their joint business account for a lavish honeymoon, Scarlett accepts a PR gig that takes her from sunny Phoenix, Ariz., to snowy Anchorage, Alaska, where she's assigned to advertise the Final Frontier as being packed with Christmas spirit. Compassionate physician Gil Pennington, fresh off a stint serving the underprivileged in Riverside, Calif., is in Alaska to clean out the office of his late father, a professor and Dickens expert. Both Gil and Scarlett are engaged to others when they meet, but the immediate spark between them leaves them unsure of their previously planned futures. Chaste text flirting ensues, as do innocent embraces on the aptly named Mistletoe Drive. Scarlett and Gil's speedy romance is devoid of explicit sex but loaded with longing, sweet kisses, and hand-holding. There's also an extensive array of quirky supporting characters. Readers who love squeaky-clean romance will find this tale irresistible. (BookLife)
WHAT READERS ARE SAYING…
"I loved the twists and turns in this book. It has the feel of a Hallmark Christmas movie, but the suspense and humor of a classic romance novel…" ~S.
"As Scroogy as Scarlett is, she is one dedicated, persistent, and loyal lady…even at the cost of staying extra time in a place she's not in love with. I enjoyed seeing the ways that Alaska warmed her heart… This is a fun story that will bring the Christmas spirit right into your heart." ~L.
"I enjoyed experiencing the beauties of Alaska from the comfy warmth of my armchair. The romance was sweet and satisfying. The tie-in to A Christmas Carol was clever and unforced. All in all, Christmas Future is a delightful Christmas romance that can be enjoyed year round." ~J.
"Scrooge in charge of Alaska's Christmas! How delightful this story was. She sure was a humbug. Fabulous story, fabulous ending. I totally enjoyed this book." ~N.