CURRENTLY:
Three Weeks With My Brother by Nicholas Sparks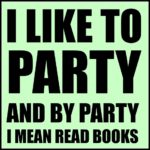 2019 READING LIST
Confessions of a Shopaholic by Sophie Kinsella–I picked this one up because it was mentioned in a book on story structure. Much more than just being well-plotted though, it was a fun read even for someone who doesn't love shopping and have huge credit card bills. The main character's rationalizations were on point.
All the Truth That's in Me by Julie Berry–seriously couldn't put it down and ended up reading it in one day! (I picked it up from the library at 5:00 pm and finished at 2:00 am.) I'll just say, it's not what you think. You'll be glad you took this journey with Judith as she finds her voice.
Eleanor Oliphant is Completely Fine by Gail Honeyman–THIS BOOK! So many things to think about how we view "normal" and how we treat people. The writing is delightful and I loved getting to know Eleanor.
The Chaos of Standing Still by Jessica Brody–well-written, intense, but clever and funny at times, journey through a teenager's grief as she's snowed in at the Denver Airport. (And no, being snowed in is not what she's grieving, but it's a great metaphor for being stuck in the past.)
Turtles All the Way Down by John Green–cleverly-written, and I actually think I loved the writing more than the story itself. Truthfully, it's a little foggy in my memory since I am beginning this list well after reading the book. There's a reason for the title, but now I can't remember it! (Now it's going to bug me and I'll have to read that part of the book again.)