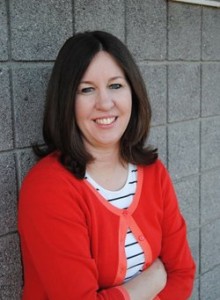 AUTHOR BIO
Valerie Ipson loves her family…and reading, writing, family history, and Hershey Milk Chocolate Almond & Toffee Nuggets. She lives in Mesa, Arizona, and IDEAL HIGH is her debut novel. She claims two hometowns: Richland, Washington, where she was born and lived until she was 10, and Amarillo, Texas, where she lived until leaving for college at 18. She thinks Richland is the best place to grow up, but wouldn't trade her growing experiences in Amarillo for anything.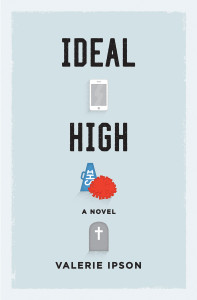 BOOK BLURB
People say it wasn't an accident, so what really happened that night at Ritter's Crossing when a fire at the abandoned cotton gin killed seven students? Or was it eight? Soon the writing on the bathroom wall means despite her grief, it's up to Taryn Young to figure out just what's going on at Ideal High School in this page-turning mystery that confronts bullying and betrayal.
INTERVIEW QUESTIONS
How did you come to write this book and why? 
Two factors combined to create the story. First, I read a news article about a bus accident that killed some students as they were returning from a school event. I wondered how a tragedy like that might affect the school. Would the students treat each other better? Would bullies even stop bullying because life is short and we never know what day may be our last? It reminded me of someone I knew from school that was ignored and bullied and I felt bad that I had never stood up for her or even talked to her. I actually tried to write a poem that was kind of an apology–what I would say to her now if given the chance. That was a fail! Instead I got the idea for a novel.
How do you think your book is unique compared to others with similar themes?
I tried not to go too dark with my subject matter. Taryn is depressed and grieving as the story opens, so I wanted her thoughts and behavior to be realistic without taking the reader down too low emotionally. I want my story to leave the YA reader with hope. Parents don't have to worry about what their teenagers will find in my book…difficult topics, yes, but clean language and no sex or excessive violence.
What do you want your readers to come away with after reading your book?
Above all I want them to enjoy reading a good book. I want them to love Taryn and love the story. Anything else is a bonus, really, except I should mention HOPE again, definitely HOPE.
EDITORIAL REVIEWS
"First-time author Ipson weaves a suspenseful mystery about the deaths of several students from a West Texas high school in a fire, an "after-party gone wrong." Ipson deftly tackles universal themes of bullying, alienation, loss, and renewed hope as senior Taryn Young must decide if, as student body president and fire survivor, she can pick up where "good guy" Blake Montgomery left off and bring about positive change at the school. Smart, quick-witted, and open-minded, Taryn is an easy protagonist to root for…overall Ipson delivers a gripping story about self-discovery, growth, and overcoming tragedy." Ages 12-up. – BookLife/Publisher's Weekly
"If Ipson set out to write a book with a lasting message and call to action, she succeeded tremendously. Ideal High is a well-written,well-intentioned read that can help spread a much-needed message in today's society. – Suzanne Gattis, Pacific Coast Reviews
 "When you read IDEAL HIGH the characters and their problems feel authentic. You know you could walk on campus and recognize each of the students you meet in the book." – The Beehive Newspaper